THE LEAST EXPENSIVE LUMBER YOU CAN GET
IS RIGHT ON YOUR PROPERTY
LET ME TURN YOUR LOGS INTO
VALUABLE LUMBER WITH MY
PORTABLE BANDSAW MILL
Save Hauling Fees
Get more Lumber per Log
Any Thickness of Lumber Can be Cut
Saw Logs That Local Sawmills Won't Touch!
Scroll down for "Links" to other pages.
Coming to your land for even one log can be cost effective if the log is of high quality.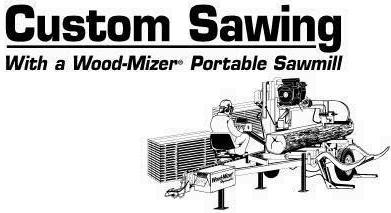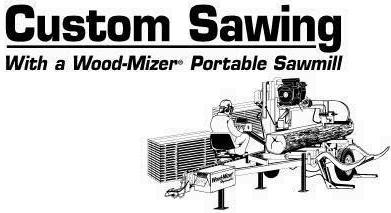 Your sawing choices are: Grade Sawn, Quarter Sawn, Flat Sawn, Flitch Sawn, Beams, Log Cabin (two sides),
Log Cabin (three sides), Rafters (one side), and Re-sawing.
Capacities: Boards up to 24" wide. Lumber up to 22" long, Beams up to 22' long.
Logs up to 36" Diameter
Call or email for further details or appointment.
Local Phone Number (978)-352-9861
Jim Rogers Sawmill, 117-R Jewett Street, Georgetown, MA 01833 (800)-422-6250
Email: jrsawmill@verizon.net
Click here to see a: Timber Frame For Sale
Click here for information about: Timber Framing Tools For Sale
Click here to see my YouTube videos about Boring Machines:
Click here to see my videos about Timber Framing tools:
Click here for information about plans for a weekend workshop: Weekend Workshop
Click here for information about: Garden Benches
Click here for information about: Jim Rogers Timber Design service